Piano: Jorge Luis Lagarza
Bass: Rafael Aldama
Drums: Ruly Herrera
Saxophone: Shabaka Hutchings
←
→
Photography: Liam Thompson & Nathan Webber
For only our 3rd gig, we were lucky enough to welcome our first overseas act – the then 24-year-old Cuban prodigy Dayme Arocena.
Singer, composer, arranger, choir director and band leader, Daymé Arocena is a skillful, charismatic presence in Cuban music. Having featured on The Havana Cultura sessions under the mentorship of Gilles Peterson, she then went on to record her first album in Havana for Brownswood that saw release in 2015 to worldwide critical acclaim. The Guardian declared her 'a rich and powerful new voice from Cuba' and Songlines recognised her as 'one of the most exciting new artists to come along in years'.
This was the first time Daymé played in London with her band of Cuban musicians, accompanied on this occasion by London's own Shabaka Hutchings.
The first set comprised of the compositions of the late, great Leon Thomas. 5 carefully selected songs focussed on the soul jazz fusions of Thomas' latter-career output on the Flying Dutchman and Strata East labels, originally recordings taking place between 1969 and 1973.
Both Thomas and Daymé Arocena have drawn lineage between jazz and West African traditions in their vocal deliveries. Whilst Arocena often immerses fragments of Afro Cuban rhythms and outbursts of scatting into her songs and performances, Leon Thomas's voice projection of the lyrics often lead to a 'wordless yodel sounding not unlike an American Indian call–the moaning of spirits known and unknown.' And so it was that the vocals firmly stole the show this night, with Dayme's luminous cackles echoing round the Church without relent.
Lex Blondin, Vince Vella & Born Cheating span before and after the music, and Kiran served up a feast. Proceeds from the booking fees went to Calais Action, via Party for the People.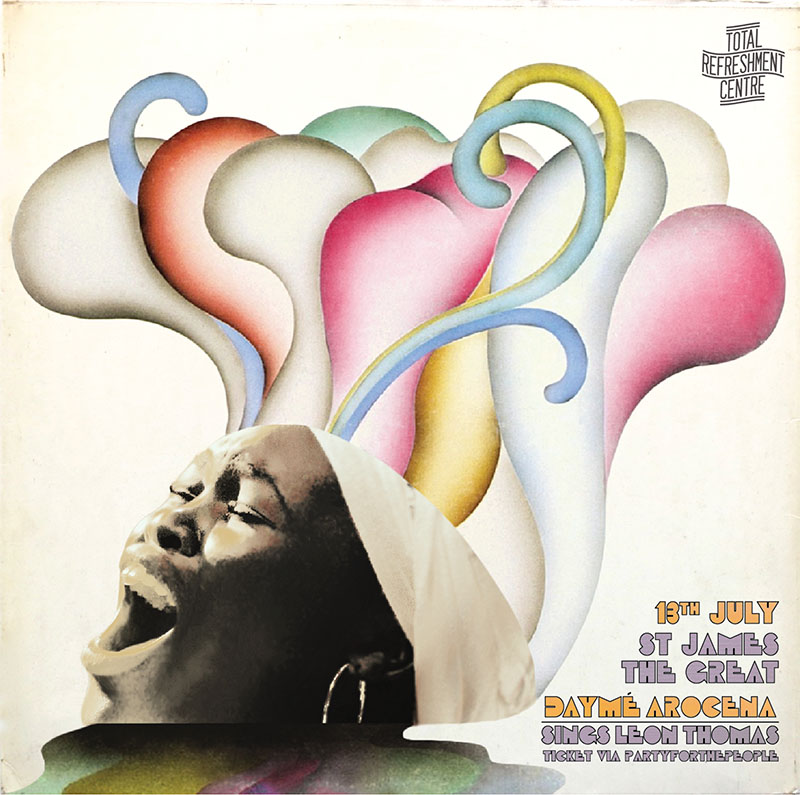 Artwork: