Drums: Moses Boyd
Tuba: Theon Cross
Guitar: Artie Zaitz
Saxophone: Binker Golding
Trombone: Nathaniel Cross
←
→
Photography: Jordan Matyka & Rosie Reed Gold
After a memorable first event at St James The Great, Church Of Sound was very excited to welcome another crew of young & talented heads into St James the Great, this time in the form of Moses Boyd's Exodus, who would be exploring the music of Art Blakey alongside their own original material.
Drummer, composer, producer and label owner and at the time just 24 years old, the London born musician had just won act of the year at Jazz Fm Awards, the John Peel Award at Gilles Peterson's Wordwide Awards and the MOBO Awards 2015 for Best Jazz Act.
In the immediate aftermath of his Steve Reid InNOVAtion Award, Moses had begun working and collaborating with the likes of Lonnie Liston Smith, Four Tet, Floating Points, Zara McFarlane, Gilles Peterson, Soweto Kinch and many more, whilst leading his own outfits The Exodus and Solo X. As you can probably tell, this was a seriously busy time for him & we were lucky to have him and the full Exodus play with us.
It was June 2016 & Moses' first 12" was released just months before, which featured the now seminal dancefloor jazz number 'Rye Lane Shuffle'. I remember flyering in the queue to Village Underground a night or two in advance of this gig and being surprised at just how many people recognised the name Moses Boyd. The good news was beginning to spread!
As for the music itself, it was a spellbinding night. Particular standouts in the memory include a raucous cover of Cameo's Candy & a particularly hushed solo from Moses himself, bringing the Church to a standstill (this moment can still be found on YouTube for the intrepid). The band remained faithful to Art Blakey's many visions, although frequent diversions in arrangement came courtesy of Nathaniel Cross's bountiful invention. It was with the second set that the band really began to transcend – as Binker's saxophone directed sheaths of sound upwards towards the ceiling, Theon's now ubiquitous tuba began to rattle the crypt & space was left in the middle distance for Moses' drums to sing.
This was also the first appearance of Vera: a wonderful lady & near-mythic presence at St James the Great, she can be found with some regularity inhabiting her specially cushioned seat next to the bar, bending the ear of anyone who'll listen.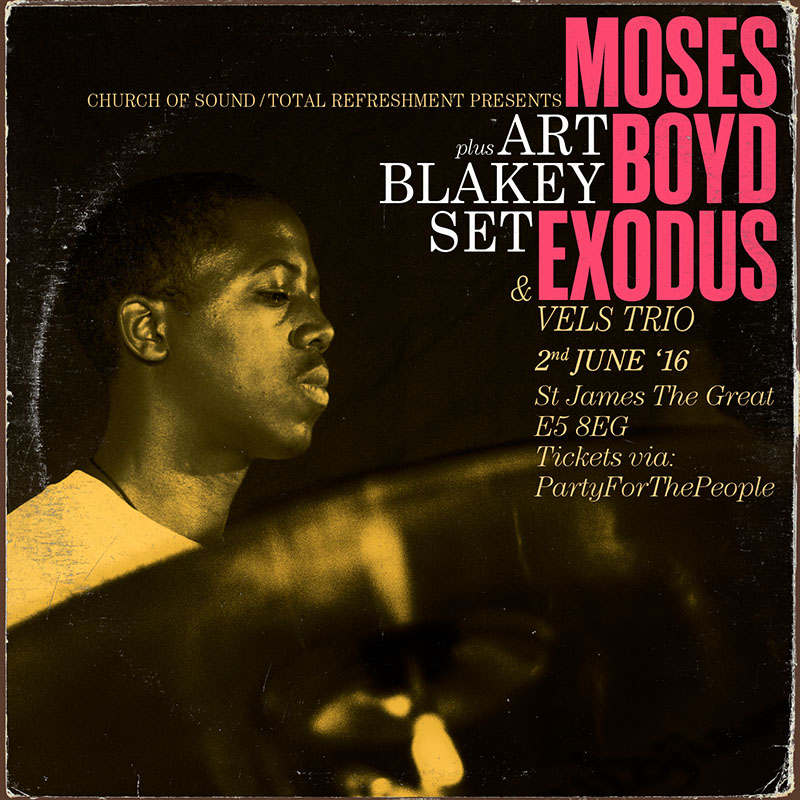 Artwork: