Yussef Dayes & Kamaal Williams All Star Band
Kamaal Williams: Keys
Yussef Dayes: Drums
Nubya Garcia: Saxophone
Rocco Palladino: Bass
Crispin Spry: Percussions
Mansur Brown: Guitar
Nick Walters: Trumpet
←
→
Photography: Salem Wazeki
On the 28th of April 2016, an all star band led by Yussef Dayes and Kamaal Williams came to St James the Great, paying tribute to the legacy of drummer Idris Muhammad & sharing a substantial amount of brand new material. The feel on the night was electric, a certain special tension was present that arises only when a large number of things, that could go wrong at any time, do not go wrong. Yussef & Kamaal's stars were in the ascendant &, although it seems hard to believe now, the new UK sound was still firmly underground. What was born that night was only possible with the support of everyone who put their trust in the hands of the musicians and the team. So if you were there – thank you – your early support was invaluable to many.
Many features of that night soon became hallmarks of the Church of Sound experience. The opening 90 minutes of food & DJs, that happened almost by accident, immediately became a key part of our events. Lexus Blondin and Born Cheating – now resident selectors – laid down a new atmosphere and Kiran Chahal kicked off a monthly tradition of filling our bellies with delicious vegetable curry. Behind the scenes, other CoS regulars were making their entrance: John Evans, soundman and brains behind the multi-directional sound pillar; Leopold Naessens, expert lighting engineer, electrician & sometime security guard; Raimund Wong, killer artist and designer. Even the crew working that night remain to this day. Two stalwarts of St James the Great were also there on this first night, Rev. Rosemia Brown & Treasurer Burnett Brown. We ran our advance ticketing system via Party For The People – they are wonderful and we recommend them to anyone. They also give away booking fee proceeds to charity!
Finally, and most importantly, the music was incredible. Yussef's connection to the Idris feel was audible to all. But, somehow, the second set proved better still, the interplay between Kamaal's luxurious keywork & the rest of the band palpable. It was the first time many had heard the sound of what would soon become Yussef Kamaal.
One memorable moment: Mansur blew his amp during a particularly strident guitar workout. Whilst the sound of a guitarless gig rippled throughout the Church, it was Simbad who crawled onto stage with just screwdriver & pliers to fix the thing. Onwards!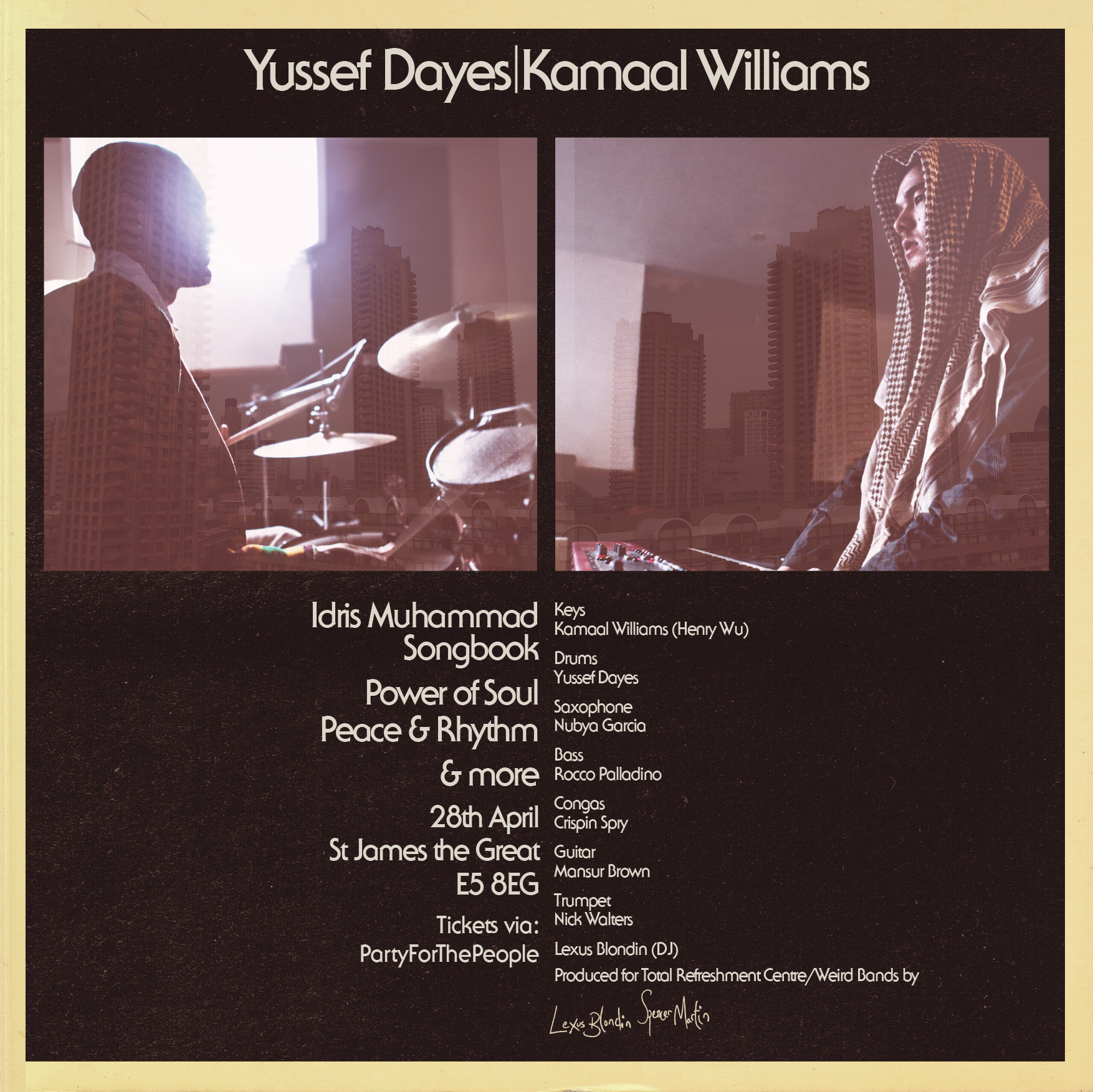 Artwork: